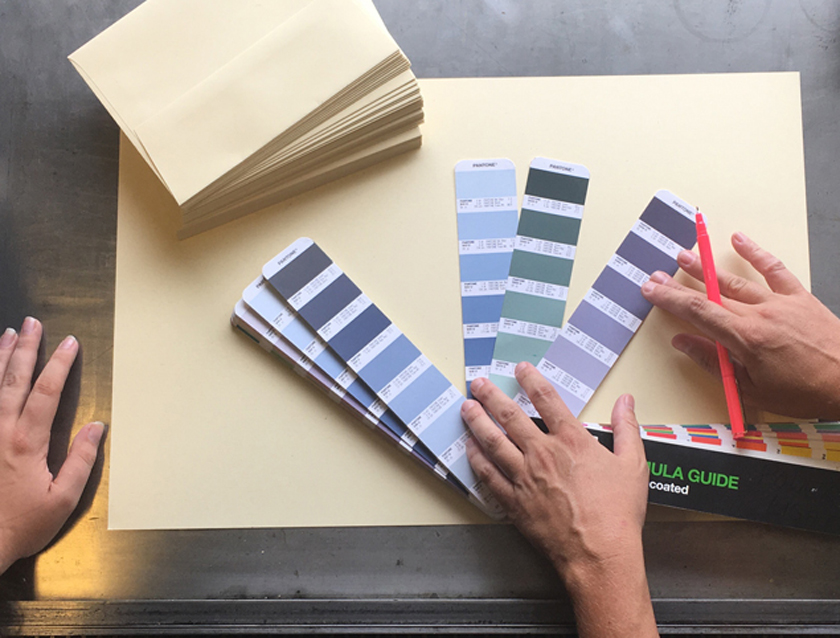 LET'S WORK TOGETHER
We'd love to help you realize the project of your dreams!
Pricing for custom printing jobs depends on a number of variables including quantity, size, number of ink colors, and more. Please read through the following info and email us at info@powerandlightpress.com for a quote. We'll get back to you within 24 hours with an estimate.
PAPER
We stock several house papers that we love to print on but, ultimately, there are a million options out there, and are happy to work with you to select the perfect paper for your project.
INK
Our inks are all mixed by hand, and we can match any color in the Pantone Solid Uncoated system.
PLATES
We use photopolymer printing plates to achieve a crisp, clean impression. For larger poster projects, we love to work from our collection of antique wood type.
SIZE
We can print up to 18x24" paper size
QUANTITY
We recommend a minimum order size of 50 pieces, as letterpress costs are heavily weighted up front during set up, so the cost-per-piece decreases as the quantity increases.
PAYMENT
A 50% non-refundable deposit is required once all specs have been finalized. Balance is due at shipment. Payment can be made via PayPal, credit card, or check.
TURNAROUND
Turnaround time depends on the project, with a minimum two weeks. Rush orders can sometimes be accommodated for an additional cost.
PROOF
The letterpress process requires a significant amount of time and materials during the setup stage, so unfortunately we cannot provide physical proofs. We will, however, email a PDF of the final plate and will not begin printing until it has been reviewed and approved.
REFUNDS



We do everything we can to be sure that you are delighted with your prints and we believe that the products we produce are of the highest quality available. Because of the nature of the work and labor invested in each project, we cannot offer refunds or exchanges for our custom printing.

FREQUENTLY ASKED QUESTIONS
WHAT ARE YOUR PAPER OPTIONS?
We stock several house sheets that we love to print on, all of which employ responsible environmental practices. We are happy to share that information if you're interested! There are many paper options including handmade, metallic, imported, and more. We will happily work with you to find the perfect paper for your project.
HOW DO I LET YOU KNOW WHICH COLORS I WANT?
We hand-mix all of our inks, and can match anything from the Pantone Solid Uncoated system. We recommend 1-2 colors per project.
CAN YOU PRINT DOUBLE-SIDED?
Yes, but if we are printing on a thinner paper, there won't be much of an impression. We recommend single-sided printing, unless you choose a heavyweight paper for your project
CAN YOU PRINT BLEEDS AND LARGE AREAS OF COLOR?
Yes, but don't expect the coverage to be super solid! Large solids will look different than offset solids when printed, as the paper tends to show through a bit and result in a "salty" or slightly textured look. We love the way this looks, but want to be sure you do too before submitting your designs to be printed.
HOW ABOUT LIGHT INK ON DARK COLORED PAPER?
Letterpress ink is not 100% opaque, so printing a white or light colored ink on darker stock isn't advisable, as it can't really stand up against the darker paper. As a workaround, sometimes a metallic ink can be used as a stand-in - silver ink on black paper looks really nice, and the particles in the ink reflect light to create contrast against the dark paper. Metallic inks have a subtle shine (not to be confused with foil stamping) and actually look better on dark papers than on light. As a general rule, though, darker ink on lighter paper is usually preferable.
WHAT KIND OF IMPRESSION CAN I EXPECT?
Traditionally, letterpress printers used a light "kiss" impression so as not to damage the soft lead type they were working with. Nowadays, with the invention of durable photopolymer plates, modern printers can turn up the impression without worrying about damaging their equipment, and a deep impression is often what sets letterpress printing apart from flat or digital printing. It's a selling point. Here are Power and Light Press, we tend to print with a medium amount of impression - enough to see and feel the texture (because it really is lovely and special) but nothing too aggressive. Your design and paper choice will dictate how much impression is appropriate.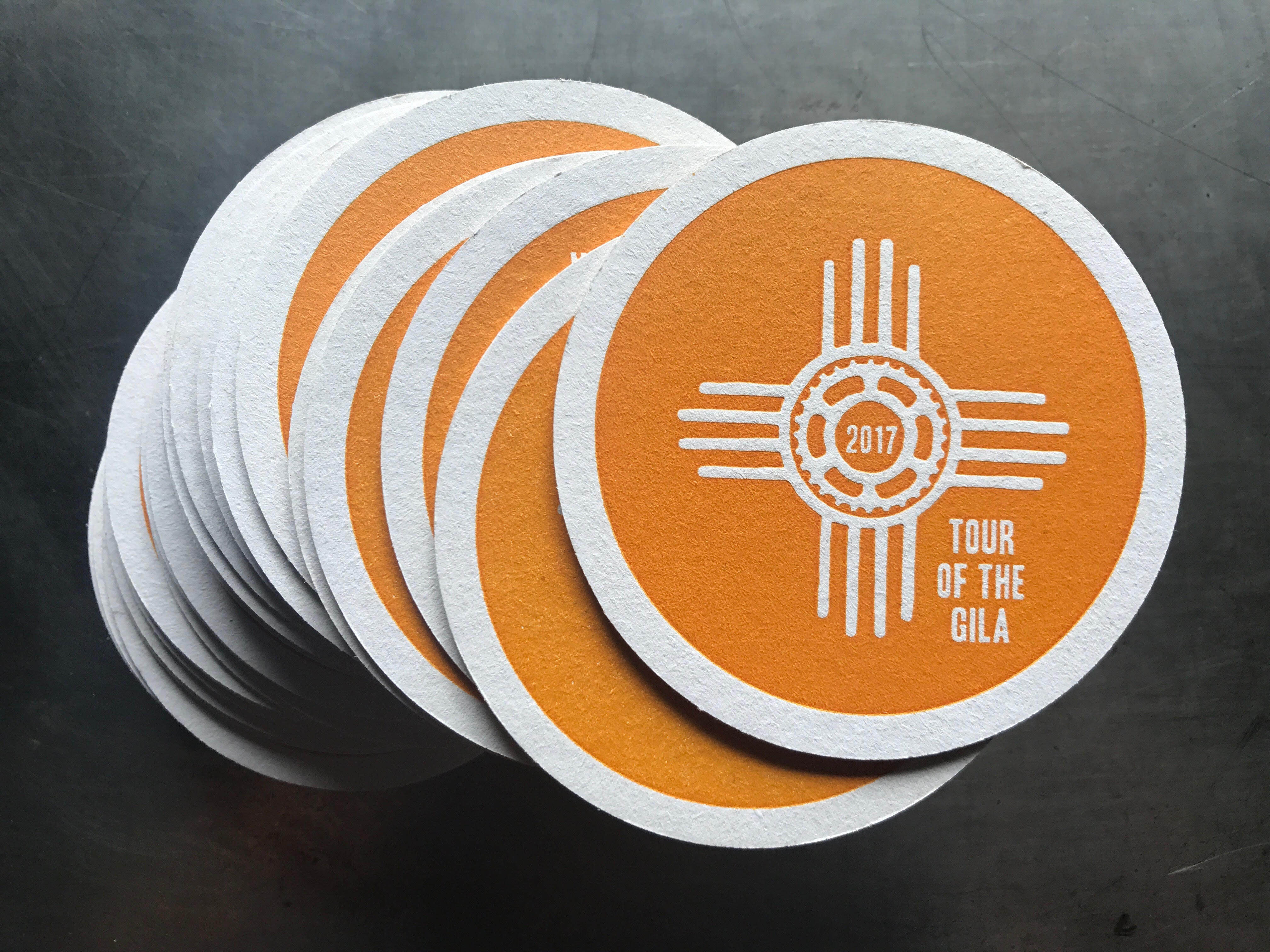 FILE PREP SPECS
Here are some guidelines to make sure your files are letterpress-ready. If you need help with any of these steps, please let us know and we can assist with file prep.
FILE FORMATS
We prefer press-quality PDF files, ideally created in Adobe Illustrator. Before sending your files, please make sure you've outlined your type, and set up your files in solid, uncoated Pantone colors. All colors must be separated into layers and if you are using a bleed, please extend your artwork ⅛ inch past the trim marks. Contact us with any questions regarding setting up your artwork! If your design requires any adjustments, help is available. The hourly rate for these kinds of changes is $50 per hour.
IMAGES
Images must be vector based (preferred) or high res (at least 600 dpi) TIFF files in bitmap mode.
FINE LINES AND TINY TYPE
The stroke weights in your file should be no less than .25 point. Type should be no less than 6pt.
SENDING FILES
Please email your files to us at info@powerandlightpress.com.
If you need help with any of the above, please let us know and we can assist with file prep.
After we receive your files, we will email you a digital PDF proof for approval. Please look over this proof carefully to make sure your artwork and fonts come through correctly and that the printing specs we have noted are all correct. We are not responsible for copy, spelling errors, or incorrect dates. The final proof we send you will be used to make the plates for printing, so please triple check for accuracy!